Int J Biol Sci 2021; 17(12):3239-3254. doi:10.7150/ijbs.63115 This issue
Research Paper
BRCA1 Antibodies Matter
1. Department of Anatomy & Cell Biology, School of Medicine & Health Sciences, The George Washington University, Washington, DC, USA
2. Department of Biochemistry & Molecular Medicine, School of Medicine & Health Sciences, The George Washington University, Washington, DC, USA

This is an open access article distributed under the terms of the Creative Commons Attribution License (https://creativecommons.org/licenses/by/4.0/). See http://ivyspring.com/terms for full terms and conditions.
Citation:
Yang J, Qi L, Chiang HC, Yuan B, Li R, Hu Y. BRCA1 Antibodies Matter.
Int J Biol Sci
2021; 17(12):3239-3254. doi:10.7150/ijbs.63115. Available from
https://www.ijbs.com/v17p3239.htm
Abstract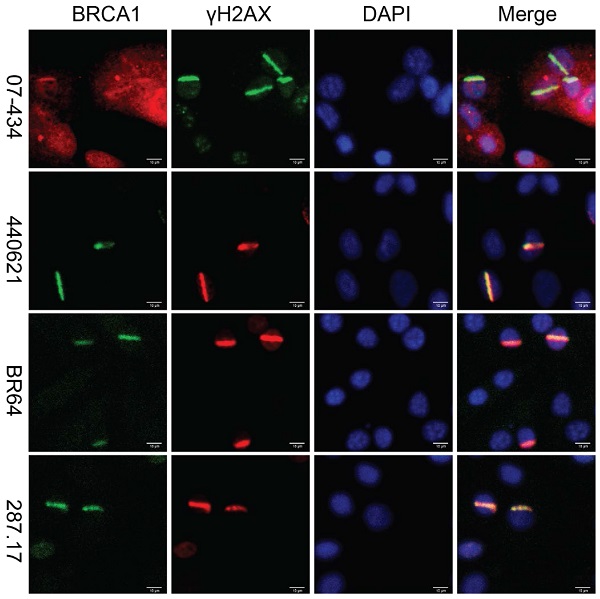 Breast cancer susceptibility gene 1 (BRCA1) encodes a tumor suppressor that is frequently mutated in familial breast and ovarian cancer patients. BRCA1 functions in multiple important cellular processes including DNA damage repair, cell cycle checkpoint activation, protein ubiquitination, chromatin remodeling, transcriptional regulation, as well as R-loop formation and apoptosis. A large number of BRCA1 antibodies have been generated and become commercially available over the past three decades, however, many commercial antibodies are poorly characterized and, when widely used, led to unreliable data. In search of reliable and specific BRCA1 antibodies (Abs), particularly antibodies recognizing mouse BRCA1, we performed a rigorous validation of a number of commercially available anti-BRCA1 antibodies, using proper controls in a panel of validation applications, including Western blot (WB), immunoprecipitation (IP), immunoprecipitation-mass spectrometry (IP-MS), chromatin immunoprecipitation (ChIP) and immunofluorescence (IF). Furthermore, we assessed the specificity of these antibodies to detect mouse BRCA1 protein through the use of testis tissue and mouse embryonic fibroblasts (MEFs) from Brca1+/+ and Brca1Δ11/Δ11 mice. We find that Ab1, D-9, 07-434 (for recognizing human BRCA1) and 287.17, 440621, BR-64 (for recognizing mouse BRCA1) are specific with high quality performance in the indicated assays. We share these results here with the goal of helping the community combat the common challenges associated with anti-BRCA1 antibody specificity and reproducibility and, hopefully, better understanding BRCA1 functions at cellular and tissue levels.
Keywords: BRCA1, Antibody validation, Western blot, Immunoprecipitation, Chromatin Immunoprecipitation, Immunofluorescence