Int J Biol Sci 2021; 17(12):3255-3267. doi:10.7150/ijbs.63125 This issue
Research Paper
Discovery and Validation of Nitroxoline as a Novel STAT3 Inhibitor in Drug-resistant Urothelial Bladder Cancer
1. Department of Urology, Okayama University Graduate School of Medicine, Dentistry and Pharmaceutical Sciences, Okayama, Japan
2. Department of Urology, Zhujiang Hospital, Southern Medical University, Guangzhou, China
3. Department of Urology, Sir Run Run Shaw Hospital, Zhejiang University School of Medicine, Hangzhou, China
4. Center for Innovative Clinical Medicine, Okayama University Hospital, Okayama, Japan
5. Okayama Medical Innovation Center, Okayama University, Okayama, Japan

This is an open access article distributed under the terms of the Creative Commons Attribution License (https://creativecommons.org/licenses/by/4.0/). See http://ivyspring.com/terms for full terms and conditions.
Citation:
Lin W, Sun J, Sadahira T, Xu N, Wada K, Liu C, Araki M, Xu A, Watanabe M, Nasu Y, Huang P. Discovery and Validation of Nitroxoline as a Novel STAT3 Inhibitor in Drug-resistant Urothelial Bladder Cancer.
Int J Biol Sci
2021; 17(12):3255-3267. doi:10.7150/ijbs.63125. Available from
https://www.ijbs.com/v17p3255.htm
Abstract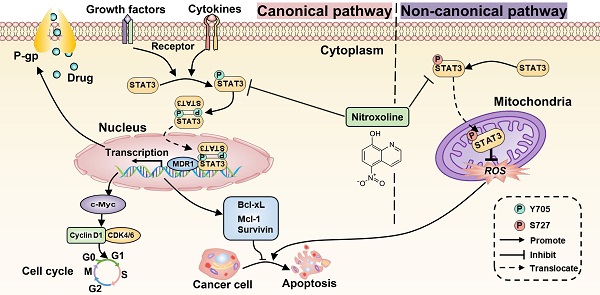 Repeated cycles of first-line chemotherapy drugs such as doxorubicin (DOX) and cisplatin (CIS) trigger frequent chemoresistance in recurrent urothelial bladder cancer (UBC). Nitroxoline (NTX), an antibiotic to treat urinary tract infections, has been recently repurposed for cancer treatment. Here we aimed to investigate whether NTX suppresses drug-resistant UBC and its molecular mechanism. The drug-resistant cell lines T24/DOX and T24/CIS were established by continual exposure of parental cell line T24 to DOX and CIS, respectively. T24/DOX and T24/CIS cells were resistant to DOX and CIS, respectively, but they were sensitive to NTX time- and dose-dependently. Overexpressions of STAT3 and P-glycoprotein (P-gp) were identified in T24/DOX and T24/CIS, which could be reversed by NTX. Western blot revealed that NTX downregulated p-STAT3, c-Myc, Cyclin D1, CDK4, CDK6, Bcl-xL, Mcl-1, and Survivin, which were further confirmed by Stattic, a selective STAT3 inhibitor. In vivo, NTX exhibited the significant anti-tumor effect in T24/DOX and T24/CIS tumor-bearing mice. These results suggested that NTX-induced P-gp reversal, G0/G1 arrest, and apoptosis in drug-resistant UBC were mediated by inhibition of STAT3 signaling. Our findings repurpose NTX as a novel STAT3 inhibitor to induce P-gp reversal, G0/G1 arrest, and apoptosis in drug-resistant UBC.
Keywords: Urothelial bladder cancer, doxorubicin, cisplatin, chemoresistance, nitroxoline, STAT3.