Int J Biol Sci 2021; 17(13):3343-3355. doi:10.7150/ijbs.61274 This issue
Research Paper
Downregulation of miR‑214-3p attenuates mesangial hypercellularity by targeting PTEN‑mediated JNK/c-Jun signaling in IgA nephropathy
Department of Nephrology, The Second Xiangya Hospital, Central South University, Hunan Key Laboratory of Kidney Disease and Blood Purification, Changsha, Hunan, China.

This is an open access article distributed under the terms of the Creative Commons Attribution License (https://creativecommons.org/licenses/by/4.0/). See http://ivyspring.com/terms for full terms and conditions.
Citation:
Li Y, Xia M, Peng L, Liu H, Chen G, Wang C, Yuan D, Liu Y, Liu H. Downregulation of miR‑214-3p attenuates mesangial hypercellularity by targeting PTEN‑mediated JNK/c-Jun signaling in IgA nephropathy.
Int J Biol Sci
2021; 17(13):3343-3355. doi:10.7150/ijbs.61274. Available from
https://www.ijbs.com/v17p3343.htm
Abstract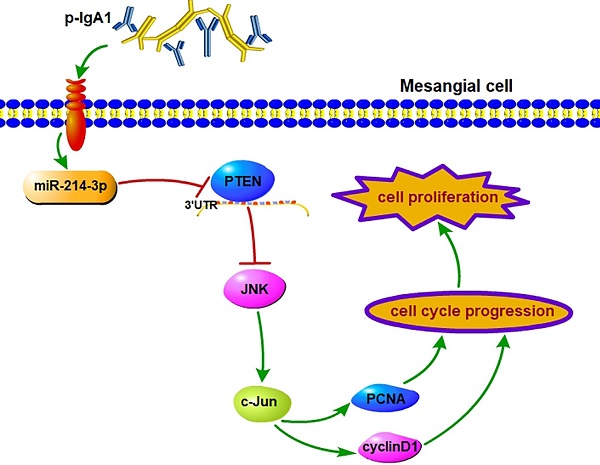 Mesangial cell (MC) proliferation and matrix expansion are basic pathological characteristics of IgA nephropathy (IgAN). However, the stepwise mechanism of MC proliferation and the exact set of related signaling molecules remain largely unclear. In this study, we found a significant upregulation of miR-214-3p in the renal cortex of IgAN mice by miRNA sequencing. In situ hybridization analysis showed that miR-214-3p expression was obviously elevated in MCs in the renal cortex in IgAN. Functionally, knockdown of miR-214-3p alleviated mesangial hypercellularity and renal lesions in IgAN mice. In vitro, the inhibition of miR-214-3p suppressed MC proliferation and arrested G1-S cell cycle pSrogression in IgAN. Mechanistically, a luciferase reporter assay verified PTEN as a direct target of miR-214-3p. Downregulation of miR-214-3p increased PTEN expression and reduced p-JNK and p-c-Jun levels, thereby inhibiting MC proliferation and ameliorating renal lesions in IgAN. Moreover, these changes could be attenuated by co-transfection with PTEN siRNA. Collectively, these results illustrated that miR-214-3p accelerated MC proliferation in IgAN by directly targeting PTEN to modulate JNK/c-Jun signaling. Therefore, miR-214-3p may represent a novel therapeutic target for IgAN.
Keywords: IgA nephropathy, miR‑214-3p, mesangial cell proliferation, PTEN, JNK/c-Jun signaling