Int J Biol Sci 2021; 17(13):3356-3368. doi:10.7150/ijbs.61175 This issue
Review
Crucial Roles of microRNA-Mediated Autophagy in Urologic Malignancies
1. Department of Urology, Taizhou Central Hospital (Taizhou University Hospital), Taizhou, 318000, Zhejiang, China.
2. Department of Urology, the First Affiliated Hospital of Gannan Medical University, Ganzhou, Jiangxi, China.
3. Department of Thoracic Surgery, Taizhou Central Hospital (Taizhou University Hospital), Taizhou, 318000, Zhejiang, China.
4. School of Medicine, Taizhou University, Taizhou, 318000, Zhejiang, China.
5. Department of Cardiovascular Surgery, The Second Affiliated Hospital of Zhengzhou University, Zhengzhou, 450014, Henan, China.
#These authors contributed equally to this work.

This is an open access article distributed under the terms of the Creative Commons Attribution License (https://creativecommons.org/licenses/by/4.0/). See http://ivyspring.com/terms for full terms and conditions.
Citation:
Shen M, Li X, Qian B, Wang Q, Lin S, Wu W, Zhu S, Zhu R, Zhao S. Crucial Roles of microRNA-Mediated Autophagy in Urologic Malignancies.
Int J Biol Sci
2021; 17(13):3356-3368. doi:10.7150/ijbs.61175. Available from
https://www.ijbs.com/v17p3356.htm
Abstract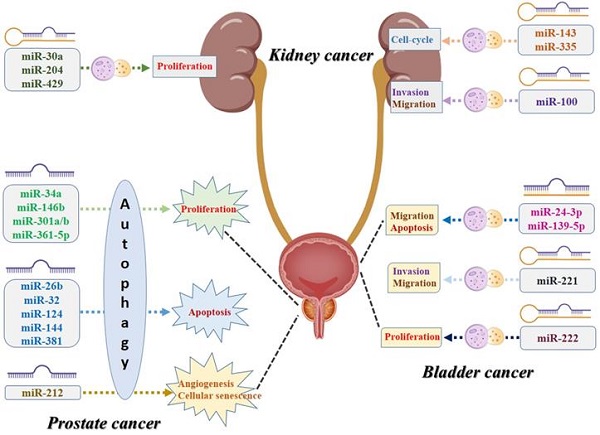 Urologic oncologies are major public health problems worldwide. Both microRNA and autophagy, separately or concurrently, are involved in a variety of the cellular and molecular processes of multiple cancers, including urologic malignancies. In this review, we have summarized the related studies and found that microRNA-mediated autophagy acted as carcinogenic factors or suppressors in prostate cancer, kidney cancer, and bladder cancer. MiRNAs, targeted genes, and the different signaling pathways constitute a complex network that orchestrates autophagy regulation, militating the oncogenic and tumor-suppressive effects in urologic malignancies. Aberrant expression of miRNAs may induce the dysregulation of the autophagy process, resulting in tumorigenesis, progression, and resistance to anticancer therapies. Targeting specific miRNAs for autophagy modulation may present as reliable diagnostic and prognostic biomarkers or promising therapeutic strategies for urologic oncologies.
Keywords: MicroRNA, Autophagy, Molecular mechanisms, Urologic oncologies