Int J Biol Sci 2021; 17(13):3493-3507. doi:10.7150/ijbs.62339 This issue
Research Paper
Discovery of a novel HDACi structure that inhibits the proliferation of ovarian cancer cells in vivo and in vitro
1. National Engineering Laboratory for Druggable Gene and Protein Screening, Northeast Normal University, Changchun, 130024, China.
2. Research Center of Agriculture and Medicine gene Engineering of Ministry of Education, Northeast Normal University, Changchun, 130024, China.
3. Hebei Key Laboratory of Chinese Medicine Research on Cardio-Cerebrovascular Disease, Hebei University of Chinese Medicine, Shijiazhuang, China.
#These authors contributed equally to this work.

This is an open access article distributed under the terms of the Creative Commons Attribution License (https://creativecommons.org/licenses/by/4.0/). See http://ivyspring.com/terms for full terms and conditions.
Citation:
Bai M, Cui M, Li M, Yao X, Wu Y, Zheng L, Sun L, Song Q, Wang S, Liu L, Yu C, Huang Y. Discovery of a novel HDACi structure that inhibits the proliferation of ovarian cancer cells
in vivo
and
in vitro
.
Int J Biol Sci
2021; 17(13):3493-3507. doi:10.7150/ijbs.62339. Available from
https://www.ijbs.com/v17p3493.htm
Abstract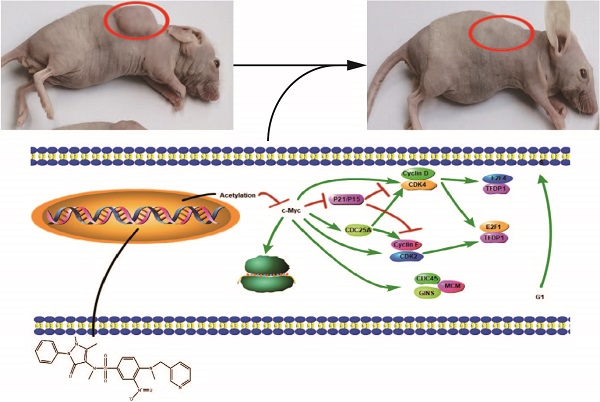 Histone deacetylases (HDACs) exhibit increased expression in cancer and promote oncogenesis via the acetylation of or interactions with key transcriptional regulators. HDAC inhibitors (HDACis) decrease HDAC activity to selectively inhibit the occurrence and development of tumors. Our study screened and obtained a new HDACi structure. In vitro experiments have showed that among the leads, Z31216525 significantly inhibited the proliferation and induced the apoptosis of epithelial ovarian cancer (EOC) cells. In vivo experiments demonstrated that compared to the control, Z31216525 significantly inhibited tumor growth and showed very low toxicity. Further mechanistic studies revealed that Z31216525 may exert an antitumor effect by inhibiting the expression of the c-Myc gene. Collectively, our studies identified a novel HDACi that is expected to become a new potential therapeutic drug for EOC and has important value for the design of new HDACi structures.
Keywords: HDACi, EOC, c-Myc, HDAC7