Int J Biol Sci 2021; 17(13):3508-3521. doi:10.7150/ijbs.62858 This issue
Research Paper
miR-139/PDE2A-Notch1 feedback circuit represses stemness of gliomas by inhibiting Wnt/β-catenin signaling
1. Department of Neurosurgery, Xijing Hospital, Fourth Military Medical University, Xi'an 710032, China.
2. Department of Neurology, Tangdu Hospital, Fourth Military Medical University, Xi'an 710032, China.
3. Department of Anesthesiology, Xijing Hospital, Fourth Military Medical University, Xi'an 710032, China.
4. State Key Laboratory of Cancer Biology, Department of Medical Genetics and Developmental Biology, Fourth Military Medical University, Xi'an 710032, China.
#These authors contributed equally to this study.

This is an open access article distributed under the terms of the Creative Commons Attribution License (https://creativecommons.org/licenses/by/4.0/). See http://ivyspring.com/terms for full terms and conditions.
Citation:
Li SZ, Ren KX, Zhao J, Wu S, Li J, Zang J, Fei Z, Zhao JL. miR-139/PDE2A-Notch1 feedback circuit represses stemness of gliomas by inhibiting Wnt/β-catenin signaling.
Int J Biol Sci
2021; 17(13):3508-3521. doi:10.7150/ijbs.62858. Available from
https://www.ijbs.com/v17p3508.htm
Abstract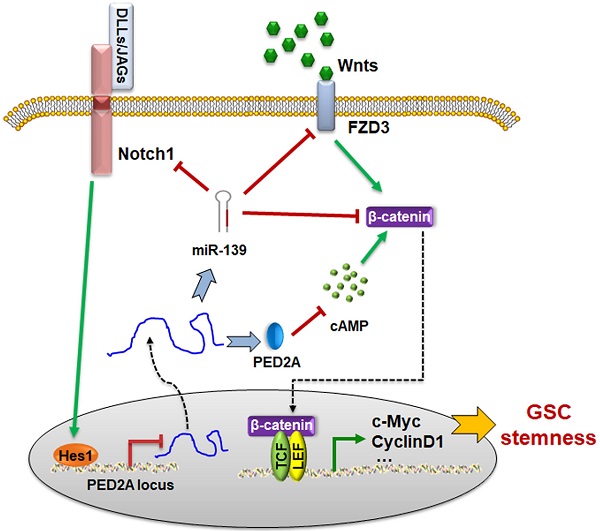 Rationale: The malignant phenotypes of glioblastomas (GBMs) are primarily attributed to glioma stem cells (GSCs). Our previous study and other reports have suggested that both miR-139 and its host gene PDE2A are putative antitumor genes in various cancers. The aim of this study was to investigate the roles and mechanisms of miR-139/PDE2A in GSC modulation.
Methods: Clinical samples were used to determine miR-139/PDE2A expression. Patient-derived glioma stem-like cells (PD-GSCs) were stimulated for immunofluorescent staining, sphere formation assays and orthotopic GBM xenograft models. Bioinformatic analysis and further in vitro experiments demonstrated the downstream molecular mechanisms of miR-139 and PDE2A. OX26/CTX-conjugated PEGylated liposome (OCP) was constructed to deliver miR-139 or PDE2A into glioma tissue specifically.
Results: We demonstrated that miR-139 was concomitantly transcribed with its host gene PDE2A. Both PDE2A and miR-139 indicated better prognosis of gliomas and were inversely correlated with GSC stemness. PDE2A or miR-139 overexpression suppressed the stemness of PD-GSCs. FZD3 and β-catenin, which induced Wnt/β-catenin signaling activation, were identified as targets of miR-139 and mediated the effects of miR-139 on GSCs. Meanwhile, PDE2A suppressed Wnt/β-catenin signaling by inhibiting cAMP accumulation and GSK-3β phosphorylation, thereby modulating the self-renewal of PD-GSCs. Notably, Notch1, which is also a target of miR-139, suppressed PDE2A/miR-139 expression directly via downstream Hes1, indicating that miR-139 promoted its own expression by the miR-139-Notch1/Hes1 feedback circuit. Expectedly, targeted overexpression miR-139 or PDE2A in glioma with OCP system significantly repressed the stemness and decelerated glioma progression.
Conclusions: Our findings elaborate on the inhibitory functions of PDE2A and miR-139 on GSC stemness and tumorigenesis, which may provide new prognostic markers and therapeutic targets for GBMs.
Keywords: PDE2A, miR-139, glioma stem cell, Notch1, Wnt/β-catenin