Int J Biol Sci 2021; 17(13):3573-3582. doi:10.7150/ijbs.60551 This issue
Review
A combination therapy of Phages and Antibiotics: Two is better than one
1. Institute of Biomedical Informatics, school of Basic Medical Sciences, Henan University, Kaifeng 475004, China.
2. Henan International Joint Laboratory of Nuclear Protein Regulation, school of Basic Medical Sciences, Henan University, Kaifeng 475004, China.
3. Department of Clinical Laboratory Sciences, College of Applied Medical Sciences, Jouf University, Sakaka 2014, Saudi Arabia.

This is an open access article distributed under the terms of the Creative Commons Attribution License (https://creativecommons.org/licenses/by/4.0/). See http://ivyspring.com/terms for full terms and conditions.
Citation:
Li X, He Y, Wang Z, Wei J, Hu T, Si J, Tao G, Zhang L, Xie L, Abdalla AE, Wang G, Li Y, Teng T. A combination therapy of Phages and Antibiotics: Two is better than one.
Int J Biol Sci
2021; 17(13):3573-3582. doi:10.7150/ijbs.60551. Available from
https://www.ijbs.com/v17p3573.htm
Abstract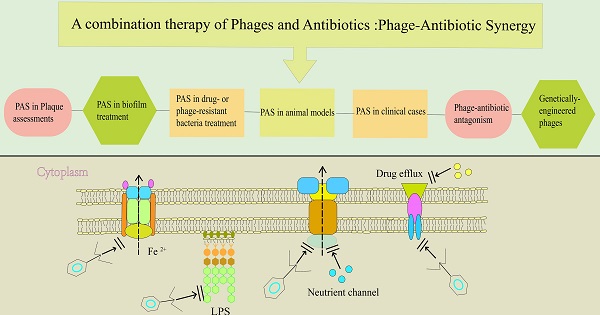 Emergence of antibiotic resistance presents a major setback to global health, and shortage of antibiotic pipelines has created an urgent need for development of alternative therapeutic strategies. Bacteriophage (phage) therapy is considered as a potential approach for treatment of the increasing number of antibiotic-resistant pathogens. Phage-antibiotic synergy (PAS) refers to sublethal concentrations of certain antibiotics that enhance release of progeny phages from bacterial cells. A combination of phages and antibiotics is a promising strategy to reduce the dose of antibiotics and the development of antibiotic resistance during treatment. In this review, we highlight the state-of-the-art advancements of PAS studies, including the analysis of bacterial-killing enhancement, bacterial resistance reduction, and anti-biofilm effect, at both in vitro and in vivo levels. A comprehensive review of the genetic and molecular mechanisms of phage antibiotic synergy is provided, and synthetic biology approaches used to engineer phages, and design novel therapies and diagnostic tools are discussed. In addition, the role of engineered phages in reducing pathogenicity of bacteria is explored.
Keywords: phage-antibiotic synergy, multidrug-resistance, bacterial anti-phage resistance, biofilm, phage therapy