Int J Biol Sci 2021; 17(14):3776-3785. doi:10.7150/ijbs.61573 This issue
Research Paper
YTHDF2 Suppresses Notch Signaling through Post-transcriptional Regulation on Notch1
Department of Bioresources Engineering, Sejong University, Seoul 05006, Republic of Korea

This is an open access article distributed under the terms of the Creative Commons Attribution License (https://creativecommons.org/licenses/by/4.0/). See http://ivyspring.com/terms for full terms and conditions.
Citation:
Lee B, Lee S, Shim J. YTHDF2 Suppresses Notch Signaling through Post-transcriptional Regulation on Notch1.
Int J Biol Sci
2021; 17(14):3776-3785. doi:10.7150/ijbs.61573. Available from
https://www.ijbs.com/v17p3776.htm
Abstract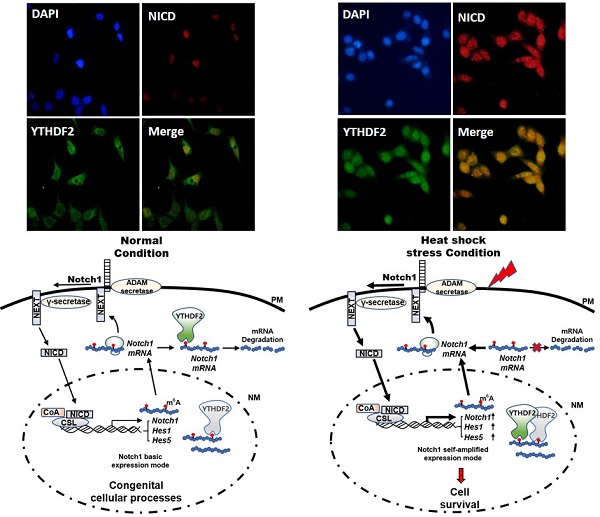 YTH domain family 2 (YTHDF2) is an N6-methyladenosine (m6A) binding protein promoting mRNA degradation in various biological processes. Despite its essential roles, the role of YTHDF2 in determining cell fates has not been fully elucidated. Notch signaling plays a vital role in determining cell fates, such as proliferation, differentiation, and apoptosis. We investigated the effect of YTHDF2 on Notch signaling. Our results show that YTHDF2 inhibits Notch signaling by downregulating the Notch1, HES1, and HES5 mRNA levels. Analyzing YTHDF2 deletion mutants indicates that the YTH domain is critical in regulating the Notch signal by directly binding m6A of Notch1 mRNA. Recently, YTHDF2 nuclear translocation was reported under heat shock conditions, but its physiological function is unknown. In our study, the YTH domain is required for YTHDF2 nuclear translocation. In addition, under heat shock stress, the Notch signal was significantly restored due to the increased expression of the Notch1 targets. These results suggest that YTHDF2 in the cytoplasm may act as an intrinsic suppressor in Notch signaling by promoting Notch1 mRNA degradation under normal cellular conditions. Conversely, upon the extracellular stress such as heat shock, YTHDF2 nuclear translocation resulting in reduced Notch1 mRNA decay may contribute to the increasing of Notch intracellular domain (NICD) regulating the survival-related target genes.
Keywords: YTHDF2, Notch signaling, m6A