Int J Biol Sci 2021; 17(14):3786-3794. doi:10.7150/ijbs.61320 This issue
Research Paper
Receptor-binding domain of SARS-CoV-2 spike protein efficiently inhibits SARS-CoV-2 infection and attachment to mouse lung
Center for Convergent Research of Emerging Virus Infection, Korea Research Institute of Chemical Technology, Daejeon 34114, South Korea

This is an open access article distributed under the terms of the Creative Commons Attribution License (https://creativecommons.org/licenses/by/4.0/). See http://ivyspring.com/terms for full terms and conditions.
Citation:
Shin HJ, Ku KB, Kim HS, Moon HW, Jeong GU, Hwang I, Yoon GY, Lee S, Lee S, Ahn DG, Kim KD, Kwon YC, Kim BT, Kim SJ, Kim C. Receptor-binding domain of SARS-CoV-2 spike protein efficiently inhibits SARS-CoV-2 infection and attachment to mouse lung.
Int J Biol Sci
2021; 17(14):3786-3794. doi:10.7150/ijbs.61320. Available from
https://www.ijbs.com/v17p3786.htm
Abstract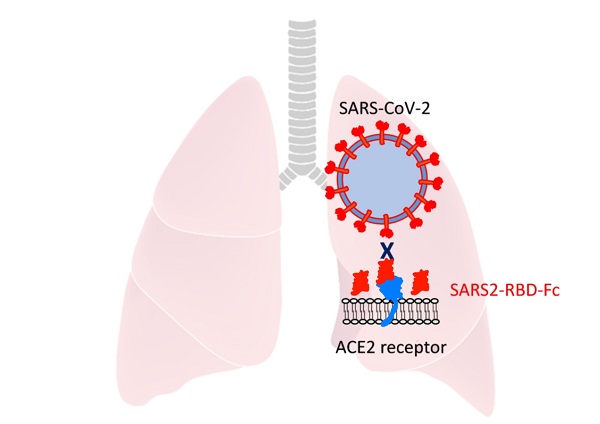 COVID-19, caused by a novel coronavirus, SARS-CoV-2, poses a serious global threat. It was first reported in 2019 in China and has now dramatically spread across the world. It is crucial to develop therapeutics to mitigate severe disease and viral spread. The receptor-binding domains (RBDs) in the spike protein of SARS-CoV and MERS-CoV have shown anti-viral activity in previous reports suggesting that this domain has high potential for development as therapeutics. To evaluate the potential antiviral activity of recombinant SARS-CoV-2 RBD proteins, we determined the RBD residues of SARS-CoV-2 using a homology search with RBD of SARS-CoV. For efficient expression and purification, the signal peptide of spike protein was identified and used to generate constructs expressing recombinant RBD proteins. Highly purified RBD protein fused with the Fc domain of human IgG showed potent anti-viral efficacy, which was better than that of a protein fused with a histidine tag. Intranasally pre-administrated RBD protein also inhibited the attachment of SARS-COV-2 to mouse lungs. These findings indicate that RBD protein could be used for the prevention and treatment of SARS-CoV-2 infection.
Keywords: SARS-CoV-2, COVID-19, receptor-binding domain, anti-viral, therapeutics