Int J Biol Sci 2021; 17(14):3818-3836. doi:10.7150/ijbs.60588 This issue
Research Paper
Melittin-loaded Iron Oxide Nanoparticles Prevent Intracranial Arterial Dolichoectasia Development through Inhibition of Macrophage-mediated Inflammation
1. Department of Radiology, Daegu Catholic University School of Medicine, Daegu, Korea.
2. Department of Anatomy, Daegu Catholic University School of Medicine, Daegu, Korea.
3. Department of Pathology, Daegu Catholic University School of Medicine, Daegu, Korea.
4. Department of Molecular Biology, Daegu Catholic University School of Medicine, Daegu, Korea.
5. Department of Plastic Surgery, Daegu Catholic University School of Medicine, Daegu, Korea.
6. Department of Radiology, Kyungpook National University School of Medicine, Daegu, Korea.

This is an open access article distributed under the terms of the Creative Commons Attribution License (https://creativecommons.org/licenses/by/4.0/). See http://ivyspring.com/terms for full terms and conditions.
Citation:
Vu HD, Huynh PT, Ryu J, Kang UR, Youn SW, Kim H, Ahn HJ, Park K, Hwang SK, Chang YC, Lee YJ, Lee HJ, Lee J. Melittin-loaded Iron Oxide Nanoparticles Prevent Intracranial Arterial Dolichoectasia Development through Inhibition of Macrophage-mediated Inflammation.
Int J Biol Sci
2021; 17(14):3818-3836. doi:10.7150/ijbs.60588. Available from
https://www.ijbs.com/v17p3818.htm
Abstract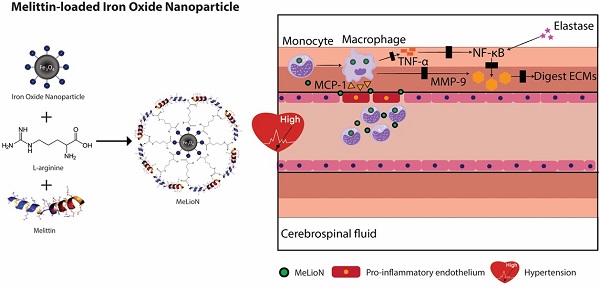 Rationale: In intracranial arterial dolichoectasia (IADE) development, the feedback loop between inflammatory cytokines and macrophages involves TNF-α and NF-κB signaling pathways and leads to subsequent MMP-9 activation and extracellular matrix (ECM) degeneration. In this proof-of-concept study, melittin-loaded L-arginine-coated iron oxide nanoparticle (MeLioN) was proposed as the protective measure of IADE formation for this macrophage-mediated inflammation and ECM degeneration.
Methods: IADE was created in 8-week-old C57BL/6J male mice by inducing hypertension and elastase injection into a basal cistern. Melittin was loaded on the surface of ION as a core-shell structure (hydrodynamic size, 202.4 nm; polydispersity index, 0.158). Treatment of MeLioN (2.5 mg/kg, five doses) started after the IADE induction, and the brain was harvested in the third week. In the healthy control, disease control, and MeLioN-treated group, the morphologic changes of the cerebral arterial wall were measured by diameter, thickness, and ECM composition. The expression level of MMP-9, CD68, MCP-1, TNF-α, and NF-κB was assessed from immunohistochemistry, polymerase chain reaction, and Western blot assay.
Results: MeLioN prevented morphologic changes of cerebral arterial wall related to IADE formation by restoring ECM alterations and suppressing MMP-9 expression. MeLioN inhibited MCP-1 expression and reduced CD68-positive macrophage recruitments into cerebral arterial walls. MeLioN blocked TNF-α activation and NF-κB signaling pathway. In the Sylvian cistern, co-localization was found between the CD68-positive macrophage infiltrations and the MeLioN distributions detected on Prussian Blue and T2* gradient-echo MRI, suggesting the role of macrophage harboring MeLioN.
Conclusions: The macrophage infiltration into the arterial wall plays a critical role in the MMP-9 secretion. MeLioN, designed for ION-mediated melittin delivery, effectively prevents IADE formation by suppressing macrophage-mediated inflammations and MMP activity. MeLioN can be a promising strategy preventing IADE development in high-risk populations.
Keywords: magnetic iron oxide nanoparticles, melittin, intracranial arterial dolichoectasia, macrophages, extracellular matrix, matrix metalloproteinases