Int J Biol Sci 2021; 17(14):4021-4033. doi:10.7150/ijbs.62478 This issue
Research Paper
Tubular cell-derived exosomal miR-150-5p contributes to renal fibrosis following unilateral ischemia-reperfusion injury by activating fibroblast in vitro and in vivo
1. Department of Urology, Renmin Hospital of Wuhan University, Wuhan, 430060, China.
2. Department of Anesthesiology, Renmin Hospital of Wuhan University, Wuhan, 430060, China.
*These authors contributed equally to this work.
#These authors contributed equally to this work.

This is an open access article distributed under the terms of the Creative Commons Attribution License (https://creativecommons.org/licenses/by/4.0/). See http://ivyspring.com/terms for full terms and conditions.
Citation:
Zhou X, Zhao S, Li W, Ruan Y, Yuan R, Ning J, Jiang K, Xie J, Yao X, Li H, Li C, Rao T, Yu W, Cheng F. Tubular cell-derived exosomal miR-150-5p contributes to renal fibrosis following unilateral ischemia-reperfusion injury by activating fibroblast
in vitro
and
in vivo
.
Int J Biol Sci
2021; 17(14):4021-4033. doi:10.7150/ijbs.62478. Available from
https://www.ijbs.com/v17p4021.htm
Abstract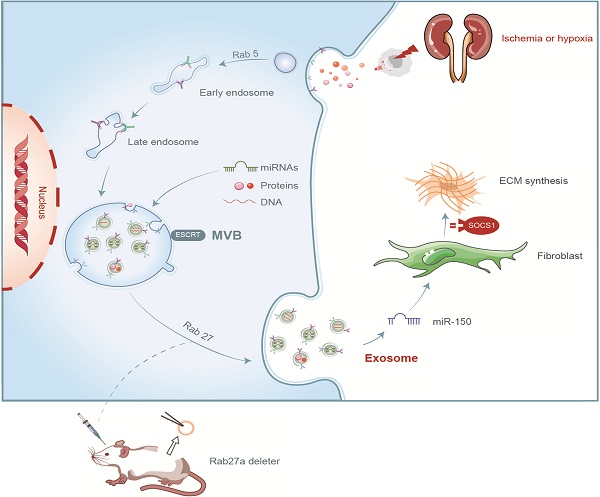 Unilateral ischemia reperfusion injury (UIRI) with longer ischemia time is associated with an increased risk of acute renal injury and chronic kidney disease. Exosomes can transport lipid, protein, mRNA, and miRNA to corresponding target cells and mediate intercellular information exchange. In this study, we aimed to investigate whether exosome-derived miRNA mediates epithelial-mesenchymal cell communication relevant to renal fibrosis after UIRI. The secretion of exosomes increased remarkably in the kidney after UIRI and in rat renal tubular epithelium cells (NRK-52E) after hypoxia treatment. The inhibition of exosome secretion by Rab27a knockout or GW4869 treatment ameliorates renal fibrosis following UIRI in vivo. Purified exosomes from NRK-52E cells after hypoxia treatment could activate rat kidney fibroblasts (NRK-49F). The inhibition of exosome secretion in hypoxic NRK-52E cells through Rab27a knockdown or GW4869 treatment abolished NRK-49F cell activation. Interestingly, exosomal miRNA array analysis revealed that miR-150-5p expression was increased after hypoxia compared with the control group. The inhibition of exosomal miR-150-5p abolished the ability of hypoxic NRK-52E cells to promote NRK-49F cell activation in vitro, injections of miR-150-5p enriched exosomes from hypoxic NRK-52E cells aggravated renal fibrosis following UIRI, and renal fibrosis after UIRI was alleviated by miR-150-5p-deficient exosome in vivo. Furthermore, tubular cell-derived exosomal miR-150-5p could negatively regulate the expression of suppressor of cytokine signaling 1 to activate fibroblast. Thus, our results suggest that the blockade of exosomal miR-150-5p mediated tubular epithelial cell-fibroblast communication may provide a novel therapeutic target to prevents UIRI progression to renal fibrosis.
Keywords: renal fibrosis, unilateral ischemia-reperfusion, exosome, microRNA