Int J Biol Sci 2021; 17(14):4036-4046. doi:10.7150/ijbs.63537 This issue
Review
The Role of p38γ in Cancer: From review to outlook
1. Department of Oncology, the First Affiliated Hospital of Anhui Medical University, Hefei, 230022, Anhui, China.
2. First Clinical Medical College of Anhui Medical University, Hefei, 230032, Anhui, China.
3. Inflammation and Immune Mediated Diseases Laboratory of Anhui Province, Anhui Medical University, Hefei, 230032, Anhui, China.
*These authors contributed equally to this work.

This is an open access article distributed under the terms of the Creative Commons Attribution License (https://creativecommons.org/licenses/by/4.0/). See http://ivyspring.com/terms for full terms and conditions.
Citation:
Xu W, Liu R, Dai Y, Hong S, Dong H, Wang H. The Role of p38γ in Cancer: From review to outlook.
Int J Biol Sci
2021; 17(14):4036-4046. doi:10.7150/ijbs.63537. Available from
https://www.ijbs.com/v17p4036.htm
Abstract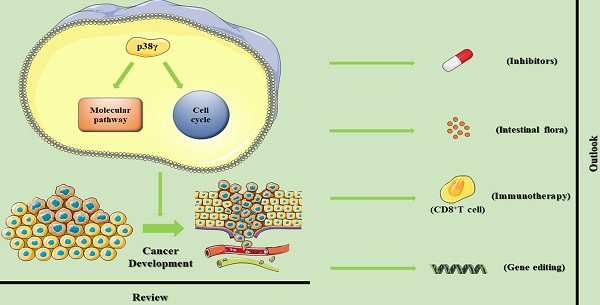 p38γ is a member of the p38 Mitogen Activated Protein Kinases (p38 MAPKs). It contains four subtypes in mammalian cells encoded by different genes including p38α (MAPK14), p38β (MAPK11), p38γ (MAPK12), and p38δ (MAPK13). Recent studies revealed that p38γ may exhibit a crucial role in tumorigenesis and cancer aggressiveness. Despite the large number of published literatures, further researches are demanded to clarify its role in cancer development, the tissue-specific function and associated novel treatment strategies. In this article, we provide the latest view on the connection between p38γ and malignant tumors, highlighting the function of p38γ. The clinical value of p38γ is also discussed, helping the translation into the remarkable therapeutic strategy in tumor diseases.
Keywords: p38γ, molecular pathway, intestinal microbes, gene editing, immunotherapy