Int J Biol Sci 2021; 17(9):2157-2166. doi:10.7150/ijbs.59648 This issue
Research Paper
BMP and Notch Signaling Pathways differentially regulate Cardiomyocyte Proliferation during Ventricle Regeneration
1. School of Life Sciences, Fudan University, Shanghai, China.
2. Department of Medicine, Li Ka Shing Faculty of Medicine, The University of Hong Kong, Pokfulam, Hong Kong, China.
3. School of Biomedical Sciences, Li Ka Shing Faculty of Medicine, The University of Hong Kong, Pokfulam, Hong Kong, China.
4. Institute of Molecular Medicine, Beijing Key Laboratory of Cardiometabolic Molecular Medicine, Peking University, Beijing, China.
5. School of Basic Medical Sciences, Wuhan University, Wuhan, China.
#These authors contributed equally to this study.

This is an open access article distributed under the terms of the Creative Commons Attribution License (https://creativecommons.org/licenses/by/4.0/). See http://ivyspring.com/terms for full terms and conditions.
Citation:
Wang W, Hu YF, Pang M, Chang N, Yu C, Li Q, Xiong JW, Peng Y, Zhang R. BMP and Notch Signaling Pathways differentially regulate Cardiomyocyte Proliferation during Ventricle Regeneration.
Int J Biol Sci
2021; 17(9):2157-2166. doi:10.7150/ijbs.59648. Available from
https://www.ijbs.com/v17p2157.htm
Abstract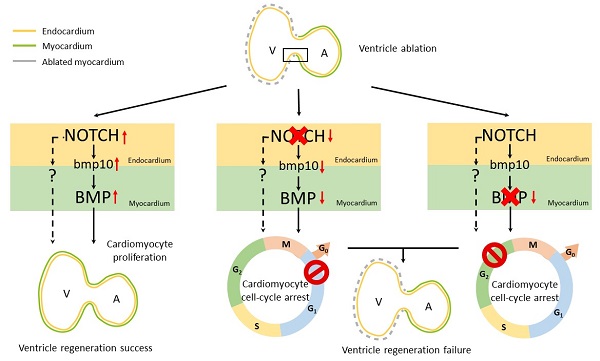 Adult mammalian hearts show limited capacity to proliferate after injury, while zebrafish are capable to completely regenerate injured hearts through the proliferation of spared cardiomyocytes. BMP and Notch signaling pathways have been implicated in cardiomyocyte proliferation during zebrafish heart regeneration. However, the molecular mechanism underneath this process as well as the interaction between these two pathways remains to be further explored. In this study we showed BMP signaling was activated after ventricle ablation and acted epistatic downstream of Notch signaling. Inhibition of both signaling pathways differentially influenced ventricle regeneration and cardiomyocyte proliferation, as revealed by time-lapse analysis using a cardiomyocyte-specific FUCCI (fluorescent ubiquitylation-based cell cycle indicator) system. Further experiments revealed that inhibition of BMP and Notch signaling led to cell-cycle arrest at different phases. Overall, our results shed light on the interaction between BMP and Notch signaling pathways and their functions in cardiomyocyte proliferation during cardiac regeneration.
Keywords: heart regeneration, BMP signaling, Notch signaling, cardiomyocyte proliferation, cell-cycle arrest