Int J Biol Sci 2021; 17(12):3188-3208. doi:10.7150/ijbs.62573 This issue
Review
LncRNA H19: A novel oncogene in multiple cancers
1. Department of Gastroenterology, Shengjing Hospital of China Medical University, Shenyang 110004, China
2. Department of Clinical Genetics, Shengjing Hospital of China Medical University, Shenyang 110004, China
3. Department of Urology, Shengjing Hospital of China Medical University, Shenyang 110004, China

This is an open access article distributed under the terms of the Creative Commons Attribution License (https://creativecommons.org/licenses/by/4.0/). See http://ivyspring.com/terms for full terms and conditions.
Citation:
Yang J, Qi M, Fei X, Wang X, Wang K. LncRNA H19: A novel oncogene in multiple cancers.
Int J Biol Sci
2021; 17(12):3188-3208. doi:10.7150/ijbs.62573. Available from
https://www.ijbs.com/v17p3188.htm
Abstract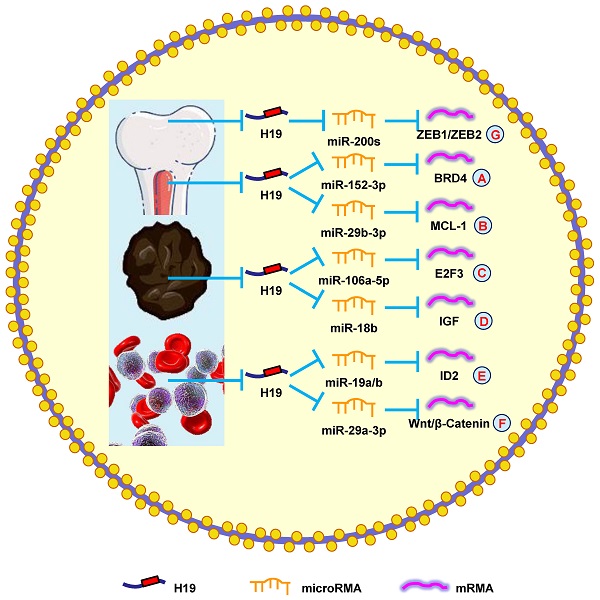 Long non-coding RNAs (lncRNAs) are a series of non-coding RNAs that lack open reading frameworks. Accumulating evidence suggests important roles for lncRNAs in various diseases, including cancers. Recently, lncRNA H19 (H19) became a research focus due to its ectopic expression in human malignant tumors, where it functioned as an oncogene. Subsequently, H19 was confirmed to be involved in tumorigenesis and malignant progression in many tumors and had been implicated in promoting cell growth, invasion, migration, epithelial-mesenchymal transition, metastasis, and apoptosis. H19 also sequesters some microRNAs, facilitating a multilayer molecular regulatory mechanism. In this review, we summarize the abnormal overexpression of H19 in human cancers, which suggests wide prospects for further research into the diagnosis and treatment of cancers.
Keywords: lncRNA, H19, oncogene, cancers, metastasis